welcome to bluum
Not just another supplement.
We focus on solving women's hormonal challenges one step at a time, using evidence-based science and a community of women to create premium quality, natural, plant-based supplements that clinically work to restore balance and help you bluum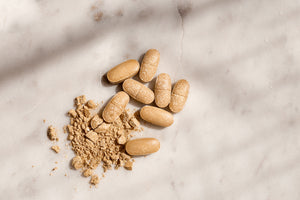 100% Hormone Free

We believe that you shouldn't have to take hormones to regulate hormones. Nature is the greatest scientist of all.

Natural + Sustainable

Only the best quality ingredients that nature has to offer from sustainable suppliers. No harmful additives or chemicals are included.
Evidence Based

Our team of experts evaluate the research to discover and select ingredients that have been clinically proven to work.

High Quality + Bioavailable

Each and every ingredient is added for a reason in the most absorbable form. Our formulas are designed to work for you, not against you.
Together

We work together with women like you to create supplements that actually work in all seasons of womanhood.

Always Improving

We believe there is power in numbers. We're committed to building a community that learns and grows together. We will always be improving.
Real women, real stories.
I got my period for the first time in a long time. Things are looking up!
Lydia
Felt really helpless before trying bluum. Now I feel like I can be more social without the stress of getting hot flashes.
Henriette
Dont want to be on HRT so I have tried almost every menopause supplement on the market and this is the only one that has actually worked. And the team really care about checking in and improving.
Samantha
Its my second month on Bluum & I already feel the difference it has made in my cycle, its an amazing natural product! I'm excited to continue my Bluum journey..
Marcelle
Things are going great! I'm really starting to feel the difference, my periods have been regular, moods way better, joint pain is getting better, new hair growth is starting to happen so all in all I'm very happy with how it's going.
Renee
I am on my 2nd pouch and already ordered 3 more. I definitely feel calmer and my skin seems to be clearer, not so many breakouts.
Christine
Sign Up

Be the first to receive updates on new arrivals, special promos and sales.